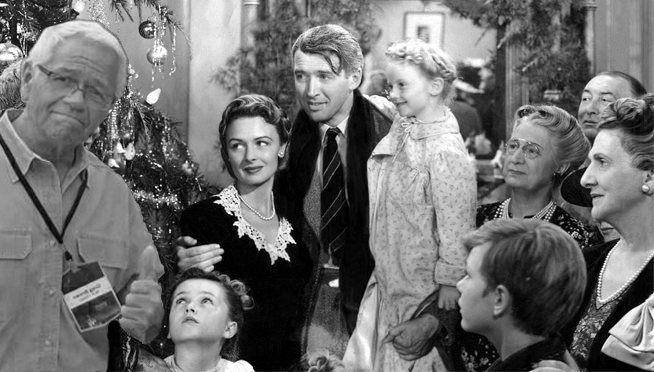 Mentalfloss.com has released an article: 25 Facts About 'It's A Wonderful Life.'  Greg Brown, being the fan of the 1946 film that he is, has chosen his top 5 facts from this list.  For the full article and all 25 facts, click here.
1) THE FILM WAS SHOT DURING A HEAT WAVE
It may be an iconic Christmas movie, but It's a Wonderful Life was actually shot in the summer of 1946, in the midst of a heat wave, no less. At one point, Director Frank Capra had to shut filming down for a day because of the sky-high temperatures.
2) A NEW TYPE OF MOVIE SNOW WAS ENGINEERED FOR THE MOVIE
Frank Capra, who trained as an engineer, and special effects supervisor Russell Shearman engineered a new type of artificial snow for the film. At the time, painted cornflakes were the most common form of fake snow, but they posed a bit of an audio problem for Capra. So he and Shearman opted to mix foamite (the stuff you find in fire extinguishers) with sugar and water to create a less noisy option.
3) THE MOVIE BOMBED AT THE BOX OFFICE.
Though it has become a quintessential American classic, It's a Wonderful Life was not an immediate hit with audiences. In fact, it put Capra $525,000 in the hole, which left him scrambling to finance his production company's next picture, State of the Union.
4) A COPYRIGHT LAPSE AIDED THE FILM'S POPULARITY.
Though it didn't make much of a dent at the box office, It's a Wonderful Life found a whole new life on television—particularly when its copyright lapsed in 1974, making it available royalty-free to anyone who wanted to show it for the next 20 years. (Which would explain why it was on television all the time during the holiday season.) The free-for-all ended in 1994.
5) IT ALL BEGAN WITH A CHRISTMAS CARD
After years of unsuccessfully trying to shop his short story, The Greatest Gift, to publishers, Philip Van Doren Stern decided to give the gift of words to his closest friends for the holidays when he printed up 200 copies of the story and sent them out as a 21-page Christmas card. David Hempstead, a producer at RKO Pictures, ended up getting a hold of it, and purchased the movie rights for $10,000.