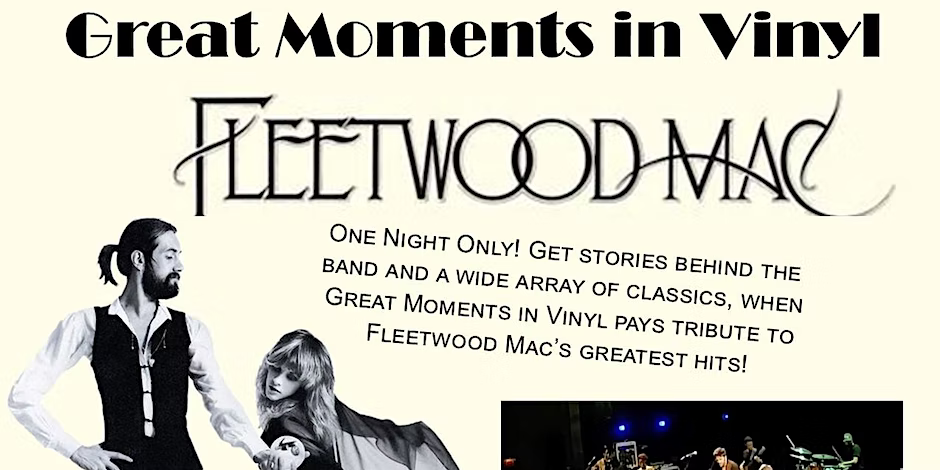 Don't Miss Great Moments in Vinyl as they cover Fleetwood Mac's greatest hits at The Klein Creek Pavillion on March 25th, Doors open @ 6:30p & Concert starts at 7:00p.
Tickets are $20 Per person for general admission row seating.
If you would like a High-top table and chairs, it's an extra $20!
Please call with any questions or if larger tables are needed (630)690-0101
TWO DRINK MINIMUM PER PERSON
Full Bar & Food available all night
The Pier 19 Restaurant at Klein Creek is right on site and a great option for dinner before the show! Reservations highly recommended! (630)690-0101 x3 – www.Pier-19.net
About Great Moments in Vinyl:
Great Moments in Vinyl takes the tribute experience to a new level. And along with the music, we supply a series of stories about the songs and the artists and the times that brought them into being. What was the song that saved U2's career? Who was Bruce Springsteen's "Rosalita"? If The Police started out as a punk band, where did all the reggae flavors come from? Why did Elton John wear glasses really? These are the sorts of questions you'll get the answers to when Great Moments in Vinyl takes the stage. And you'll hear some exceptionally well-played music, too.
The Great Moments in Vinyl band is a hand-picked collection of talented musicians from the Chicago area. The particular lineup for each ensemble is specifically chosen for the occasion.
The idea of narrated concerts is the brainchild of William Lindsey Cochran, a Chicago radio personality, voiceover artist, writer, and musician.