If someone plans to propose over dinner, they may make a reservation at the fanciest place in town. Or, they may go to Cracker Barrel. And now, there's a good reason why.
Cracker Barrel has launched a contest, where if you propose at Cracker Barrel over Valentine's Day, you have a chance to win FREE FOOD FOR A YEAR.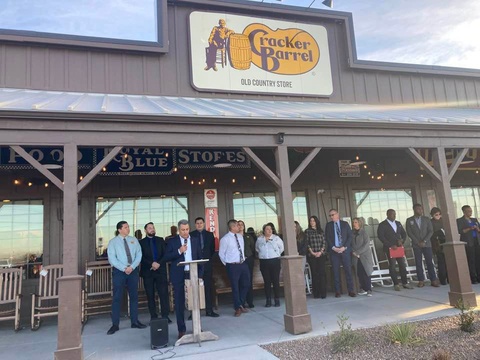 Here's how it works: You go to Cracker Barrel between this coming Friday and next Thursday, and propose. Technically, you don't have to eat there, but it would be a little weird to walk in and propose and then leave.
You have to film the proposal (making sure that Cracker Barrel is featured) and then post it on Instagram with the hashtags: #ISaidYesAtCrackerBarrel and #Contest. You have to tag @CrackerBarrel to make sure they see it.
You also have to include a caption that explains WHY you decided to propose at Cracker Barrel. (And the implication is that your partner DID say YES.)
They'll select FIVE winning couples, and each will get a $2,000 gift card . . . enough for you and your fiancée to have ONE free meal at Cracker Barrel every week for a year. They say the average price for two people is about $35.
If you like Cracker Barrel . . . but you're not ready to get married . . . there's another deal: They're offering a FREE DESSERT if you purchase two entrees, starting Friday and running through Valentine's Day.
Sources: Cracker Barrel / Terms & Conditions